Conscious and Integrative Education Program: For a liberating and creative education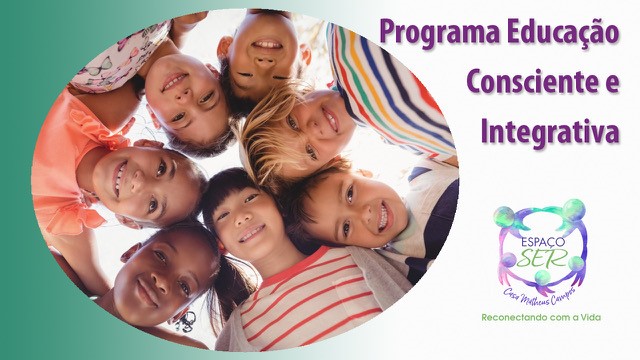 The objective of this Program is to show where we can start to obtain results different from those we currently see., in relation to the emotional state of our children and young people and that will also have serious repercussions on their adult lives..
We believe we need to give students the opportunity for a new education, the one that teaches them, beyond the outside knowledge, the self-knowledge, so that they can develop a greater reflection on values, feelings, so they can build for themselves tools that help them to deal with the adversities and impasses of life.
It is important that they learn, relearn, reframe their thoughts and find new ways out of their frustrations, identifying themselves with competing less and sharing more.
These new tools for dealing with life are seeds that must be added through new content, more humanized and focused on freedom of thought, ethical values ​​and student autonomy.
We understand that such education will be able to teach them to be opinion-makers and not passive subjects in the face of ready-made opinions that, often, contribute to their mental illness.
This is what the world urgently asks for, this is what will gradually stop the rising rate of depression and suicide, which has been increasing alarmingly among young people under 16 and that will certainly reverberate in all aspects of our society, whether in the ecosystem, in the financial and, political systems, as well as in the realm of conscience and moral values.
Such seeds should be planted as soon as possible in schools, where children and young people spend a huge amount of time in their lives, during their psychic and emotional development and they will be the ones that, through a new, more conscious,, constructive and humanized look will be able to change the course of our history, the way our Planet is taking, contributing to a more sustainable and balanced life.
Thus, based on WHO complementary integrative practices (Ottawa Charter) and in the results that the NGO Espaço SER – Casa Matheus Campos (SP- Capital) has obtained since its foundation in May 2018, with people as of 7 years-old with chronic anxiety, deep depression and strong suicidal ideation, we developed our Conscious and Creative Education Program.
It aims to propose to schools that, in addition to transmitting content, they humanize education according to their resources, activities and practices, working the students's emotions and strengthening them so that they can be seen as an integral Being and can balance mind, body and their essence. So, we hope that this Program will reach not only the students, but also their families and the entire faculty.
To SCHOOLS INTERESTED to receive our Booklet with more details and explanations about the Program, we ask you to Click here and fill out our Registration Form. If in doubt, contact us by email.programaeducacao@espacoser.org.br.
To VOLUNTEERS INTERESTED to participate in the Program, we ask you to click on the tab "Be a Volunteer" on the website or Click here, you will be redirected to our registration form, fill in the requested fields and we will get back to you shortly.